June 28th, 2014
Hey everyone.. August has been a pretty busy month for me, so much so that I haven't posted here in quite a bit.
The ongoing production of my group Final Film project has been moving along at an ever quickening pace. There always seems to be some new problem to troubleshoot, be it in Maya or bringing over sculpted detail from Zbrush. I've been using Zbrush pretty extensively on this project, and it's been fun getting more used to this extremely versatile program. Both of my contributions to
this project were done 90% in Zbrush. The low poly mesh for environment around the tunnel door was done in Maya then exported to Zbrush for sculpting.
My first try at Zspheres in Zbrush paved the way for the fuss free modeling of the monster. Having the Zsphere rig from before allowed me to reuse it to quickly prototype the skeletal structure and overall gesture of the creature. Overall a much more intuitive approach than pushing/rotating vertices around in Maya.
Its teeth were modelled from a simple Zsphere chain that was retopoed after sculpting most of the detail.
I've just figured out how to configure the creature's normal maps properly for Mental Ray (This involved Jan Sandström's normal map plugin for Mental Ray in Maya, an extra horizontally flipped texture map for the problem half of the creature and a lot of trial and error till the normals stopped being inverted on one side of the its body). There's probably a better way to do it than how I handled it, think I'll post at Cgtalk to ask for help with that. In any case, this current implemention seems sound, the inconvenience of having to update an extra map while texture painting has been nullified by automating the process using actions in Photoshop.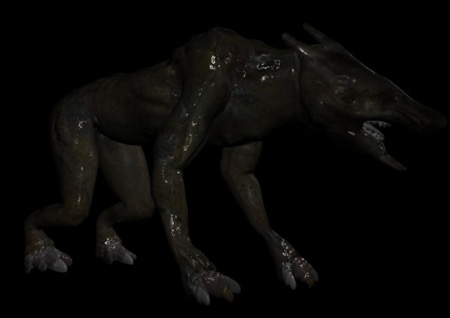 Anyway, the good news is the tech problems on the creature side seem to be largely taken care of. Now it's just a matter of detailing it nicely, getting rid of the texture seams and creating a good specular map to seal the deal. And after that I go back to the nightmare environment. Sculpting in Zbrush is bliss.. Bringing over the detail to Maya.. well.. that's a story for another day.. More updates soon..