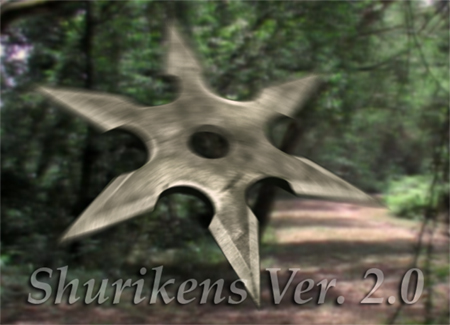 Finished an unexpected VFX project over the weekend.. Azmi of SEJA needed some flying shurikens for his short film, which is how I ended up doing Shurikens Ver. 2.0. Thanks for having faith in my ability to get the job in time man, just.. maybe a little early warning next time yeah?
Process & Finished video after the cut..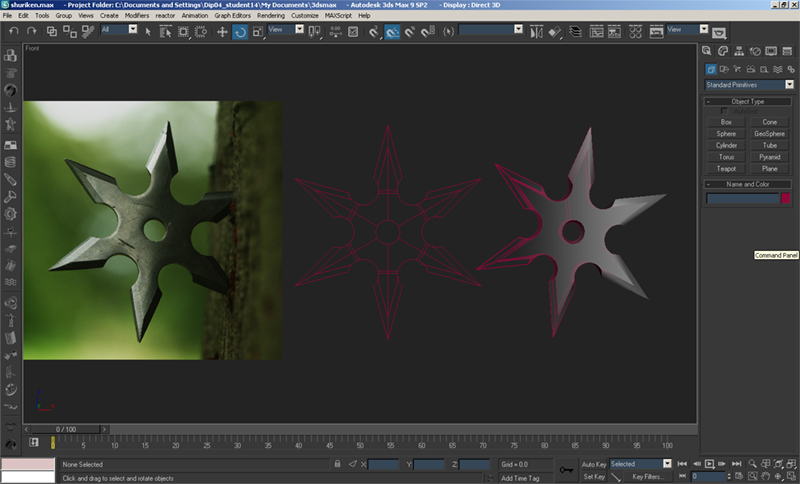 Saturday at 5 pm – First received word about it through SMS.. well actually he sent it early Saturday morning but geekishly enough I check my email more often than I do my phone.. Anyway, since I only had a few details I decided to model the shuriken first.Modeling was done using splines to map out the shape, followed by some extrusion and welding in edit poly mode to finish things up.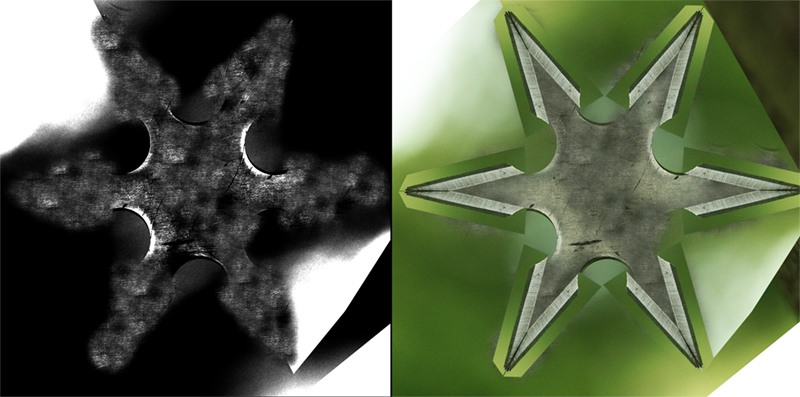 Texture was done as well, using the same reference image. Here's the specular and diffuse texture maps.
7 pm – Steamboat buffet at Punggol Marina with family along
with a bunch of cousins as well. Not bad at all for the $12+ adult price (Children's price was $9+.. and hiding amidst a cluster of my younger cousins didn't work..). Too bad it had just rained or we could have sat at the tables right on the boardwalk next to the docked boats.
11 pm – Received source video. The 2 shots I needed to comp comprised of a tripod mounted pan and a locked down camera, cool stuff. Shaky handheld footage would have been a challenge, but with 24 hours to get it done (even less considering it was Easter and there were quite a few places I had to be) I might have had trouble finishing in time.
I tried using motion tracking to recreate the camera move, but in the end I just made some proxy objects in the scene so I could manually animate the camera to match the pan. Definitely less harrowing than wrestling with stubborn tracking points.
Threw in the shuriken
and did rough blocking in of the shuriken's motion and sent it over for approval.. Slept at 1 after that.
Sunday 1pm – I continued finessing the animation after church. Tried a few different approaches, constraining the shurikens to paths etc, but in the end I just keyframed them and tweaked the curves. Also set up the particles for the end where the last shuriken slams into a tree amidst a shower of wood splinters exactly where the protagonist's head was a second before.
Here's the final video.
[wp_youtube]M9z7CxXjeJo[/wp_youtube]
A fun project to be sure. When I first did the similar shuriken scene for another friend's short film I took a heck of a long time to get it done, its nice to see what's changed in 3 years. Animation wise it could be better, and the lighting and integration as well, but I'm happy with the result in light of the short timeframe. Would be great to see it in context within the short film.
Hmm.. maybe it's time to challenge myself and see what else I can accomplish in 9 hours or less…
Stay tuned for more weekend projects!
Tags: matchmoving, Modeling, shuriken, Visual Effects