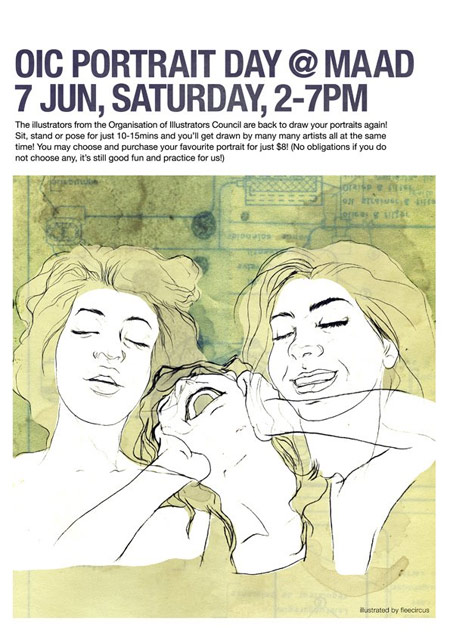 I took a two hour break from my character project on Saturday to retain a little bit of my sanity. I went down to Red Dot Museum to check out the OIC Portrait Day at MAAD
Market (Market for Artists and Designers). OIC (Organisation of Illustrators Council) is a collective of local Illustrators, they welcome others who love drawing to join in on portrait day too. It's really an awesome event for people who love to draw (and be drawn).
Reached there around 4+ and promptly started the first ink drawing in the bottom row there.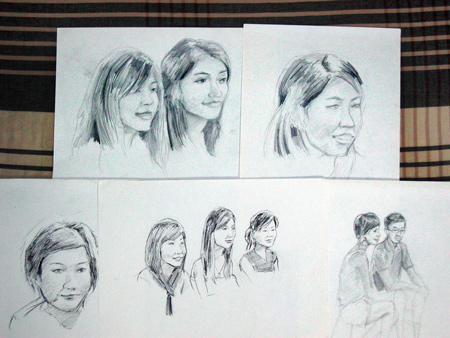 Here's the fruit of my 2 hours spent there, minus a pen drawing of a couple which they actually bought! Sadly, I didn't manage to get a picture of it before it went off to its new home (need to bring a camera next time), cause I really liked it. It was a rather cartoony pen drawing that made them look a bit younger, definitely a fun style. Think I'll be playing more with ink and wash next time, or copics. My pencil portraits are just too slow and kinda blah looking.
Meeting the OIC Gang was awesome too, they're an immensely friendly bunch of people. Amazingly an old friend from secondary school was there too, as well as one from my NS days. Talking about drawing, brush pens and sketchbooks over dinner was great. It's left me with the urge to go down to Bras Basah again and hunt down more art supplies!
Added the full drawings to my gallery.. Speaking of which, I think I need to do a bit of restructuring there as well as the site on the whole.. Hmm, something to think about when I'm more free in a few months time.
Hey, anyone interested in coming along for next month's Portrait Day? It's on July 5th, 2 – 7pm. Lemme know if you are and we can head down together.
Tags: MAAD, OIC Portrait Day