I was just looking through the B6 sized sketchbook I kept from August to October last year, and I was struck by how much more interesting the drawings in it were compared to the ones I've been doing on the train these days..
The drawings on the left are from that sketchbook, and the rest from my current one. Somehow it seems like the element of fun has been lost, and I think it's largely due to the fact that I switched from using a pen to pencil instead.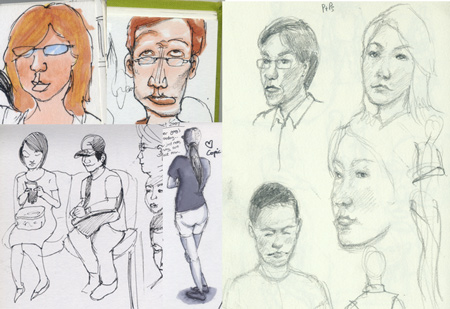 Ever since I was a kid I loved to doodle with pens more than pencils. They usually had black ink and more often than not were fine tipped for the crisp lines they could produce. Unfortunately I was terrible at drawing almost everything, I did more mindless doodles than anything else. Somehow it never occurred to me that this could be remedied by really studying and drawing from reference images and from life. Ah well, now I've started on that road and I'm definitely not
stopping any time soon!
The first three months of my course helped me to raise my expectations of my drawing. Drawing fully rendered pencil portraits from reference was something I didn't think was possible for me. The truth of the matter was before then I'd never really put my all into finishing such drawings. What I accomplished in those 3 months amazed me. The potential
for further growth was even more exciting.
The following software and specialisation phases have been pretty much all computer based (except sculpting, which I've been enjoying as well) and about the only time I can spare to draw has been my train journeys to and from school each day. I've been trying to achieve the same results as my portrait drawings in these tiny train sketches, and I now realise that's a little silly considering how the average commuter can't keep still for very long.
After about 6 months of no real improvement, I've realised that I may be going about things the wrong way.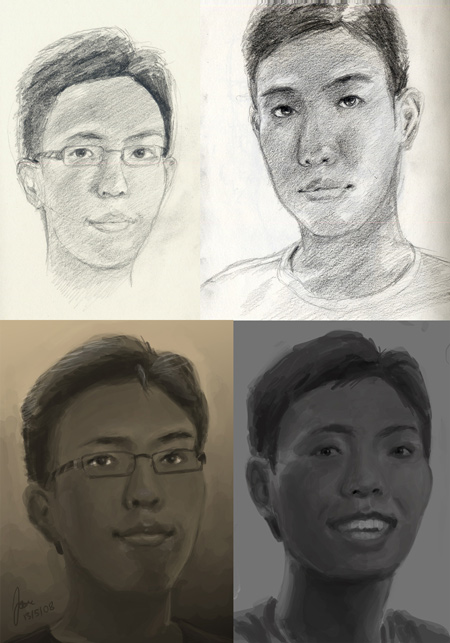 I've tried doing daily self portraits of which I only managed these 4(11,12,13,16 May 2008), but if I couldn't get my own likeness down in 30 – 60 minutes, it's kinda pointless to expect even that standard on the train.
Which is not to say I'm going to stop drawing on the train. I've decided to draw with a pen again, forget about carefully scritch-scratching like I would with a pencil and just go with bold strokes. I'll be more mindful of proportion and anatomy than I was back then, but I won't let it constrain me all that much. Gesture and caricature are what I'm aiming for. As for precision and the
proper study of facial anatomy and figure drawing, that shall be left to a quiet hour here and there whenever I can scavenge them. 90% of my time belongs to my character and environment models, 5% to the train drawings and the remaining 5% to food! Um.. ok.. maybe more than that.. well, we'll see..
Tags: gesture, sketchbook