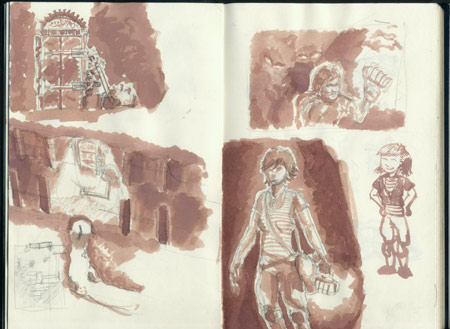 Well, CG Overdrive was really great.. too bad there wasn't a lucky draw this year though, last year's had me drooling at the insanely huge Wacom tablets, software like Zbrush, and other generally awesome goodies for the taking.. Still, it was inspiring once again to listen to these people who've been out
there in the industry doing such amazing stuff. I was kinda stressing out on the plot for my group's final film project the whole week though, but we've finally got it down..
I love how the brush pen and sepia ink I bought really
broaden the possibilities of what I can do on the train every day. The door and girl concept drawings were done on the way to school, while the lighting study of the hallway was pencilled on the way home and coloured after.
The best thing about it is since it's diluted sepia ink, it doesn't bleed through the page like copics do.. Of course the paper isn't really meant for wet media and gets kinda crinkly when I close the book, but it's pretty great for on the go sketches. If only it would fix my problems with anatomy too… but that's another story..