Armed with my $1 mini watercolour box, brushpen and various drawing implements, I took part in my second OIC Portrait Day at the Maad Market at Red Dot Museum AKA Monthly Stress Reliever/Practically Free Life Drawing Session.
It was great (and terrifying) to try out painting with watercolour for the first time in years. Picked up some good tips from the artists around me as well. Probably would not have tried it have it not been for the Full Colour theme of this month's Portrait Day.
I was looking for one of those tiny watercolour sets around Bras Basah,
but upon realising that they all cost in excess of $30 I decided to find something a little cheaper. Daiso is a good solution in these situations when you need cheap spare parts to use in unintended ways.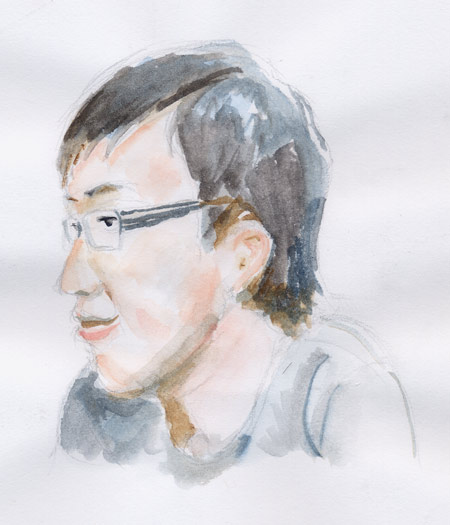 These two are 2
of the 3 paintings out of 10 in the 4.5 hours that I think weren't too bad, the third being my favourite which I:
1. Didn't realise was sold yet again, cause I was busy trying to draw the next sitter.
2. Forgot to photograph, despite bringing a camera and taking pictures of practically everything else.
Ah well.. I wrote the link to 4dpencil on the back of the drawing, so if you two happen to find your way here I'd really appreciate it if you could
send me a scan or something. Anyway I'm really glad you liked it!
Overall I'm still pretty slow, but faster than last month, which is always a good thing. Then again in this case I usually budgeted 5 – 10 minutes on establishing the proportion in pencil before haphazardly trying out different colouring approaches in watercolour. I feel like I need to do more eye studies, cause most times the eyes I'm drawing are kinda.. uh.. the stereotypical eye and not really that nice to behold. In some instances like this one I think it worked, but for others it's borderline anime eye syndrome.
It was pretty fun as expected. I dragged two of my project group members along, my mom, aunt and cousin turned up out of the blue, and on top of that 2 of my friends from poly happened to be there as well. And to the one that was sick and couldn't make it, well there's always next month yeah?