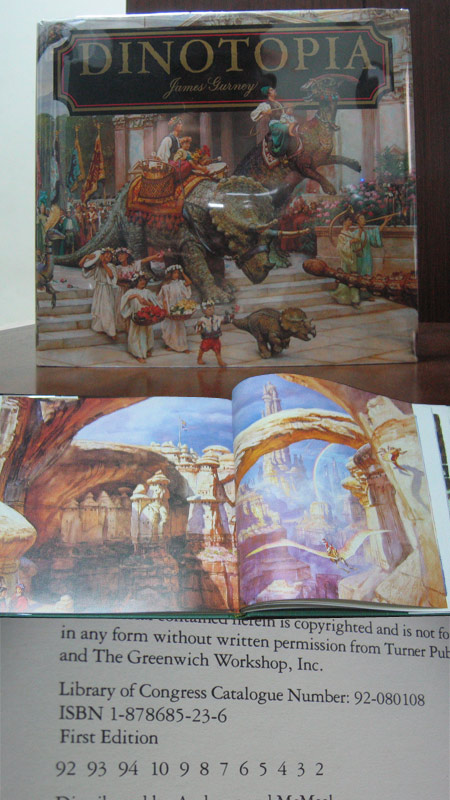 I've always been a fan of illustrated story books, and my copy of the
first Dinotopia book finally arrived today, 7 days after I put in my order at S. Howlett-West Books. It's an online bookstore specialising in Sci-Fi, Fantasy and Childrens' Books, especially illustrated ones. I intended to take pictures of the package it came in and have a grand unwrapping of sorts, but when it came I just tore through the packaging in an instant. The box has been recycled by my young brothers into a storage chest with a hidden compartment.
I paid USD$15 for the book itself and another USD$16 for shipping, putting this practically pristine second hand book at SGD$41. It was really a bargain considering the book retails at USD$34.95 without shipping from the official Dinotopia website, on top of that there's no way to pay by credit card there and they do not ship internationally.
I've been meaning to get this book for ages, and so I finally decided to order it after some scouting around the net. It's in excellent condition, I could have mistaken it for a new copy if I didn't know it was used. The content of the book itself is as good as I thought it would be. The painting in the two page spread is what got me interested in this series, at least 7 years ago. The book is filled with loose yet detailed depictions of humans living in peace with Dinosaurs on a lost island in the 1800s. I've been following the author James Gurney's blog too. It offers great insight into all manner of traditional art techniques as well as
art history.
Unfortunately my copy isn't signed by James Gurney like a lot of the books out there are, but that's ok since I'm sure I'll be able to get it signed someday. What's cool is that it's a first edition. All I can say is, thanks again to Stephanie Howlett-West for the warm customer service and for finding this book in the first place.
The 20% discount for purchases in August sounds great, and I've got my eye on that $5 copy of Where the Wild Things Are..